OW Havoc #5 "Unleashed"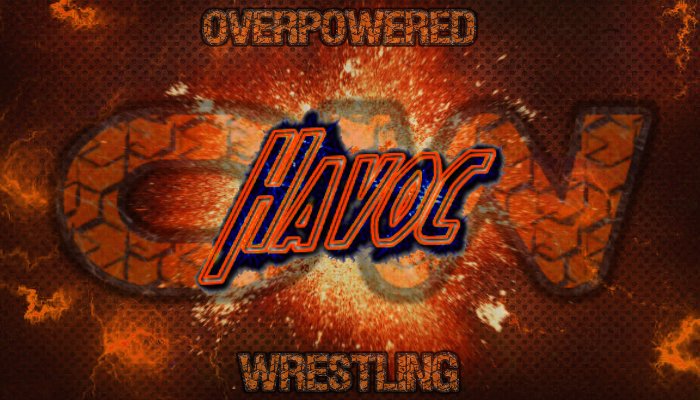 Location: Veterans Memorial Coliseum in Portland, Oregon
December 6, 2019
Paid Attendance: 3,568
The show opens with Christian welcoming everyone to OverPowered's first supershow, where he talks about how much he appreciates the support of it's fans and thanks the men and women in the back who make it all possible.
Morgan Reid vs Jessica Jones
After their last meeting on the second show, Jessica was hellbent on history not repeating itself. There weren't a lot of holds in this match, it was a fight from the bell with both women giving each other everything they had. Morgan was clearly the crowd favorite throughout the match. After exchanging several near falls though, Jones got the win with a handful of tights.
Winner: Jessica Jones by pinfall at 12:07
~ ~ ~
Winner Gets A Havoc Title Shot Next Show
Summer vs. Chance Kennedy vs. Leah vs. Ceithre Brennan
This one had many of the fans in attendance split down the middle… if the middle had more than two halves. Summer and Ceithre paired off early, going toe to toe in a fast paced showdown. It turned into a striker's dream match as they went for knockouts more than once. Meanwhile, Chance had to step up her speed and awareness against Leah. The momentum between them shifted more than once with Leah nearly getting the pin until it was broken up by Ceithre. The "WIld Fox" and Leah started exchanging blows, while Kennedy tried to wear Summer down with her technical skills. The blonde seemed to be going for a submission more than once, but never quite made it. In the final moments, it was Chance who got the fall on Brennan to score the win and the Havoc title shot.
Winner: Chance Kennedy by pinfall at 22:14
~ ~ ~
Alessandra Esposito vs. Anna Cortez
The pace slowed down a little from the previous matches here. Anna used a more ground-based offense to try to ground Alessandra, who was the easily the stronger of the two. She worked over one of her arms, trying to keep the Italian on the canvas. A series of arm bar submissions came into play, but Esposito always managed to make it to the ropes. About 7 minutes into the match, Esposito began to fight back and started using that strength as a result. Anna found herself getting slammed and dropped on the mat. She tried for a pumphandle slam, but the effects of the arm damage was starting to wear on her. Near falls were exchanged between them until Alessandra hit hear inverted stomp facebreaker for the cover. The referee counted 3 even though Anna managed to get her foot on the ropes.
Winner: Alessandra Esposito by pinfall at 12:22
The referee watched the footage back on the screen, seeing his mistake before Christian came out and told them he'd put together a rematch.
~ ~ ~
The ring announcer advertised the next Havoc show on December 20th from the Reno Events Center in Reno, Nevada.
~ ~ ~
15 Minute Intermission
~ ~ ~
Falls Count Anywhere
Max Ironside vs. Becca Raze
In a match that didn't really fit Max's skill set and seemed more attuned to Becca's preferences, the handicapped talent gave her more fight than she might have expected. The match never made it to the ring when Becca attacked during Max's entrance. As a result, the fight started in the aisle with Becca throwing him into the barricade and fighting back onto the stage. When she went for a big boot though, Max used a back body drop to send her off the stage to the floor and then landed on her with a leg drop. A near fall followed, and the fight went into the backstage area. They exchanged blows, ending up in a vending machine area where Becka tried to put his head through the front of a Coke machine. Luckily for Max, that never took place and the brawl continued. They managed it to make it to an exit, and the brawl spilled out behind the building. Max surprised her with a running bulldog into a dumpster. Another near fall for Max occurred. Becca recovered though, and began using anything she could get her hands on as the fight spilled into the parking lot. Becca's pumphandle chokeslam on the hood of a truck stopped Max in his tracks before Raze made the cover and got the win.
Winner: Becca Raze by pinfall at 17:37
Trainers cane to check on both wrestlers, which Becca started attacking as she didn't want them to help Max. While she won the match, Max had won the fans over and received a standing ovation in the arena.
~ ~ ~
Jana Rikar vs. Diamond Caldwell
There was no question who the fans were behind her as Jana received almost a hero's welcome from the crowd. Diamond brought her striking game to bear, and managed to overwhelm Jana early in the match. Her goal was to keep Rikar on the mat as much as possible, and several kicks and knee strikes helped that. Caldwell also picked up a couple near falls as well, but Jana always managed to escape. When she went for a bicycle kick though the tide changed when Jana ducked out of the way and she countered into a dragon screw. Rikar took control from there, and brought the match to a grinding halt as she relied on on her ground-based skills to keep Diamond down. She tried for her codebreaker, but Diamond fought out of it and found herself in a near fall. Caldwell kicked out, but as she tried to get away, Rikar managed to lock in her bully choke. Diamond struggled to get to the ropes, but Jana stopped her and picked up the win to a roar from the crowd.
Winner: Jana Rikar by submission at 15:52
~ ~ ~
Laura Perelli vs. "The Lioness" Elizabeth Lannister
This was, by far, the most technical match ont he show as Elizabeth and Laura both worked holds in an attempt to get one another down on the mat. And it was practically all ground game after that. Lannister seemed to target her arm, while Laura was working the neck as best she could. They exchanged submissions throughout the match, but both showed their prowess and managed to get to the ropes each and every time. It was a tilt-a-whirl headscissors armbar that got the blonde back on the mat again, and then she transitioned into the Rings of Saturn before Elizabeth knew she was stuck.
Winner: Laura Perelli by submission at 21:36
Christian told Laura that she would face the OverPowered Champion next show non-title. And the winner got to determine the match type they would face off in when the title was on the line 2 weeks after that.
~ ~ ~
Havoc Championship
Piper Whitlock vs. Keegan Ryan (c)
While the last match had a slow pace, this one was a power game from start to finish practically. The crowd was solidly behind Piper as she brought the fight to Keegan, possibly a little more than he expected. She went for several near falls, trying to catch him off guard. But they didn't work. As she was going for a belly to belly, he thumbed her in the eyes and took control of the match. He pounded her into the mat with clubbing blows and sent her shoulder first into the post more than once. Piledrivers and DDTs were the order of the day for the champion after that, each one seemingly setting up another near fall for him that still came up short. The match went back in Piper's favor again, who was a little worse for wear at this point but fought back gamely. After going for a double knee drop and missing, Keegan capitalized quickly to hit his curb stomp followed by a pin (with both feet on the ropes for extra leverage) to score the win.
Winner: Keegan Ryan by pinfall retains his title at 18:55
~ ~ ~
OverPowered Championship
CJ Cross vs. Bethany Driver (c)
A handshake started this match before the two went at each other tooth and nail. It was your classic speed versus striking as CJ wanted to keep the pace jumping, while Bethan was far more interested in keeping him off his feet. And she worked that strategy well too, by cutting him off at the knees and beginning to do some leg work with a strikes to his knee, including hanging it up on the ropes to drop down on top of it. An Indian deathlock did it no favors either, but Cross managed to make it to the ropes. But even with one hurt leg, CJ proved to be just as dangerous with those feet. A roundhouse off the good leg caught Bethany by surprise, and allowed the challenger to start getting back into the match. He was noticeably slower though. CJ looked for knockouts more than once, and got a few near falls as a result of it. It was when he tried to go up top though for a frog splash though, because Bethany moved out of the way and he crashed onto the mat. When he tried to get up, the champion caught him with her inverted snapmare driver to retain the title.
Winner: Bethany Driver by pinfall retains her title at 24:19